It might surprise you that the current Spanish names for the 4 cardinal points come from English via French.
North ⇒ norte (N)
South ⇒ sur (S)
East ⇒ este (E)
West ⇒ oeste (O or W)
All of them are masculine nouns.
If Spanish cardinal point names are technically Spanglish, how did Spanish explorers call them before adopting these modern names?
The Latin and Greek origin Spanish words for norte are boreal (adjective) and septentrional (adjective). For sur, old Spanish explorers said austral and meridional. Oriente and levante are the alternative names for este. Levar is an old-fashioned word that means to rise or lift: where the Sun rises.  We still say  occidente and poniente for oeste. El Sol se pone. The Sun sets.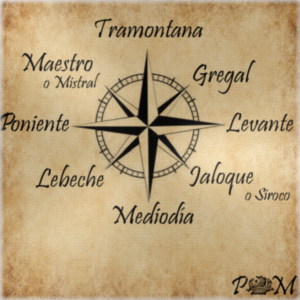 This is a nice article in a Spanish newspaper with further reading about the origin of puntos cardinales in the old Mediterranean nations. http://www.diariodeloriente.es/2017/12/03/la-rosa-los-vientos-del-mediterraneo/
In Spanish, cardinal points are called puntos cardinales.
Originally  published on 20080824. Latest update 20210505 (spanishNY.com) top