This Charlie Chaplin movie, The Pilgrim, was made nearly a century ago, in 1923.  It was not really made in Mexico, but more north in a California movie studio.  In this scene, Charlie Chaplin is deported to Mexico.
Charlie Chaplin really traveled in Mexico. He married 16 year-old Lita Gray, who had worked with him in a movie, in a town called Empalme, Guaymas, in the State of Sonora.  This is Charles Chaplin's Mexican marriage certificate. You can read on the second page "a las siete horas del día veinticinco del mes de noviembre de mil novecientos veinticuatro" (25 de Noviembre de 1924. 7am.)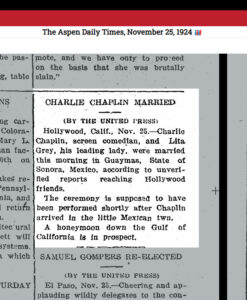 Charlie Chaplin eventually had another wife, Paulette Goddard, whom he divorced also in Mexico in 1942.
Charlie Chaplin's daughter Geraldine and his grand-daughter Oona speak Spanish like native speakers. Oona's father is Chilean.
This is how Sonora looked like around the time Charlie Chaplin visited that state.
This is a Los Angeles Times article about the life of Lita Gray, Charlie Chaplin's first wife whom he married when she was 16 years old and had been already pregnant since she was 15.
https://www.latimes.com/archives/la-xpm-1995-12-30-mn-19327-story.html
Published originally on 20210403. Latest update on 20210719 (spanishNY.com) top