Several years ago, I put together a table about Spanish automobile-related vocabulary to show how it's very different in Mexico and Spain. My theory was that cars came to the Spanish-speaking world simultaneously to Mexico via the United States, and Spain via France, and somehow there was not enough time to assimilate the new vocabulary for the new car parts. In some aspects, this is similar to what happened more recently with computer vocabulary, although in this case, the first computer in the Spanish-speaking world came to Mexico. (and our computer-related vocabularies are quite different as well.)
I found out eventually that perhaps automobiles came first to Mexico before any other Spanish-speaking country. Emile Jellinek Mercedes, after whom Mercedes Benz cars received their name, had several nationalities. Besides having born in Leipzig, Germany, and being an Austrian-Hungarian national like his parents, Jellinek obtained Mexican citizenship in the early 1900s and was also named Consul of Mexico personally by the then-president Porfirio Díaz. It's not clear if besides being Austrian-Hungarian and Mexican, he was also German and French, like his second wife.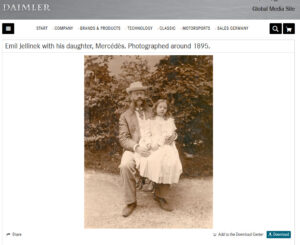 (Porfirio Díaz, Presidente de los Estados Unidos Mexicanos)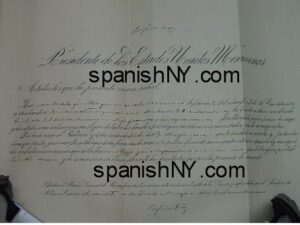 His Mexican name, as stated on his certificate, was Don Emilio Jellinek-Mercedes. This means his name was almost fully converted to Spanish. Emilio is a Spanish name, and Mercedes is the Spanish name he took from his daughter. Interestingly, the document signed by the president of Mexico was written using "vosotros." In Mexico, unlike Spain, "vosotros" is considered extremely formal, and it was used only in cases like this. As you can see in the image above, Don Emilio Mercedes' certificate was signed twice by the president of Mexico, once at the top, and again at the bottom of the document.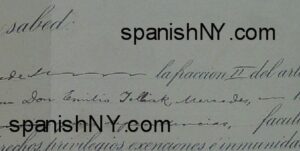 Mr. Jellinek-Mercedes was named Consul of the United Mexican States in Nice, Département du Var, des Alpes Maritimes, des Basses Alpes, des Hautes Alpes, de la Savoie et de la Haute Savoie.
The next historical document is the "Exéquatur," in which the President of the French Republic, Emile Loubet, acknowledges Don Emilio Jellinek-Mercedes as the Consul of Mexico, by request of the president of Mexico, Don Porfirio Díaz, dated on February 14th, 1906.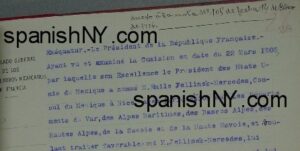 What is an Exéquatur?, Wikipedia.
Mr. Mercedes was perhaps the most important car dealer in Europe. He was a director of the German car company Daimler, which later became Mercedes-Benz. Don Emilio signed many commercial and customs documents of shipments of products being sent from Europe to ports in Mexico, including his own products. Since Mr. Mercedes was also an Austrian-Hungarian national, he was the Consul General of the Austro-Hungarian empire in Nice as well.
The Mexican consulate was located at Villa Mercedes, 54 Promenade des Anglais, the residence of Don Emilio Jellinek-Mercedes.

When Don Emilio took his daughter's name as his own last name, he changed the last name for his whole family. As a result, his daughter ended up with the following redundant name: Mercedes Jellinek-Mercedes.
Another historical but also personal document follows. This is part of the wedding invitation of Ms. Mercedes Jellinek-Mercedes. It's an invitation for the president of Mexico. You can see her full name on it. Who would have thought that her name would be engraved on millions of luxurious cars circulating all over the world 100 years later? According to the invitation, the wedding took place on Saturday, February 20, 1909, at 11 hours, in the Church of Saint Pierre d'Aréne, Nice. I wonder if she received a Mercedes car as a wedding gift, at least!

I doubt the president of Mexico in person would have left his country, traveling by sea for an entire month, to attend a wedding in Europe, however, somebody might have attended the event on his behalf.
As I mentioned before, the Mexican Consulate and residence of Mr. Mercedes was located on 54 Promenade des Anglais.
Per Google Maps, the current building cannot be the original that was there over 100 years ago.
However, a close-up of the entrance shows that this building's name is Mercedes!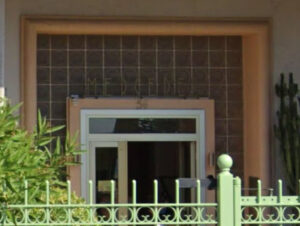 This is a photo of the original Villa Mercedes in the early 1900s, which was, among other things, the Mexican Consulate in Nice. For some reason, in the 1990s, the Mexican Consulate in Stuttgart, Germany, was inside the Mercedes Benz factory, probably it still is.
https://media.daimler.com/marsMediaSite/en/instance/picture/The-future-of-the-automobile-began-with-the-Mercds-era.xhtml?oid=17436111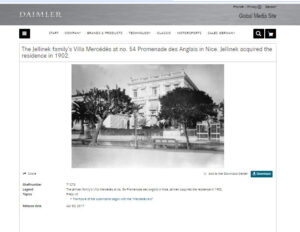 Several years ago, I had the opportunity to visit Don Porfirio Díaz's tomb a couple of times. He was the president who signed all these documents about Mr. Mercedes. I am not Mr. Díaz's fan, but it is a very interesting site to visit since he is part of our history. After the Mexican Revolution, Porfirio Díaz died in exile in France during WWI, and his tomb is in the Montparnasse cemetery in Paris. In that country, he must have met again his old friends of the Mexican Consulates in France, including Mr. Mercedes. You can see the Mexican eagle on the upper side of his monument.
You can see the same old Mexican seal on Don Emilio Mercedes' documents that were prepared at Villa Mercedes. It remains unclear to me whether Don Emilio Mercedes spoke or wrote Spanish well since most of the documents of his to which we had access were written mostly in French.
This was an official document of the Government of Mexico on Villa Mercedes stationery paper, signed on May 16th, 1908.

Due to the First World War, Don Mercedes ended up in a bad position living in France as Austrian-Hungarian, but as a Mexican, the government he represented had ended because of the Mexican Revolution.
Don Emilio Mercedes' signature as the Mexican consul.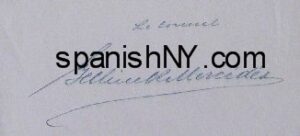 I remember seeing more commercial and inventory documents signed by Emilio Jellinek Mercedes. He was moving merchandise between France, Mexico, and Monaco.  Monaco's Prince Rainier's paternal grandmother was a lady from Mexico City named Susana de la Torre y Mier, who was related to the son-in-law of Mexico's President Porfirio Díaz.
I want to thank all Mexican government officials who at that time helped us locating and giving us access to their vaults where these documents are kept, and to Enrique Ortiz, who made photographs of many of these documents.
Lastly, please remember that the English pronunciation of Mercedes is quite, quite wrong. Try to fix it and pronounce it correctly in Spanish. Also, try to fix the pronunciation of Volkswagen and Porsche (pronounce the final e) in German and Hyundai in Korean, and …
Originally published on 20071009. Latest update on 20210419 (spanishNY.com) top