Have you ever wondered about the origins of the dollar sign? While there are several theories about its creation, one of the most compelling is its connection to the Spanish dollar.
The Spanish dollar, also known as the peso or piece of eight, was a widely used currency in the Americas, Asia and Europe in the 16th and 17th centuries. Spanish coins were adorned with the pillars of Hercules on one side, symbolizing the Strait of Gibraltar, and the Spanish royal coat of arms on the other. The pillars were accompanied by the Latin phrase "Plus Ultra," which translates to "further beyond." This phrase reflected Spain's ambition to expand its territories beyond the known world.
It's believed by some that the dollar sign evolved from the twin pillars and the banner with the Plus Ultra inscription on the Spanish coins. The S-shaped symbol we recognize as the dollar sign today resembles a stylized S with a line through it, which can be seen as a simplification of the twin pillars on the Spanish coins.
The Spanish dollar's influence extended beyond its use in the Spanish Empire, as it was also widely accepted in international trade and commerce. In fact, the Spanish dollar was the currency of choice for many British North American colonies, and it was even legal tender in the United States until the mid-19th century.
Today, the dollar sign is recognized worldwide as a symbol of the US dollar and is used in many other countries' currencies as well.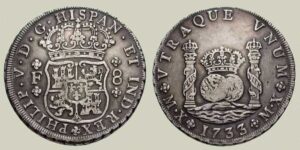 ¿Alguna vez te has preguntado sobre el origen del signo del dólar? Si bien existen varias teorías sobre su creación, una de las más convincentes está relacionada con el dólar español.
El dólar español, también conocido como peso o pieza de a ocho, fue una moneda ampliamente utilizada en América y Europa en los siglos XVI y XVII. Las monedas españolas estaban adornadas con las columnas de Hércules en un lado, simbolizando el estrecho de Gibraltar, y el escudo real español en el otro. Las columnas estaban acompañadas por la frase en latín "Plus Ultra", que se traduce como "más allá". Esta frase reflejaba la ambición de España por expandir sus territorios más allá del mundo conocido.
Se cree que el signo del dólar evolucionó a partir de las columnas gemelas y la bandera con la inscripción "Plus Ultra" en las monedas españolas. El símbolo en forma de S que reconocemos como el signo del dólar hoy en día se asemeja a una S estilizada con una línea a través de ella, que se puede interpretar como una simplificación de las columnas gemelas en las monedas españolas.
La influencia del dólar español se extendió más allá de su uso en el Imperio español, ya que también fue ampliamente aceptado en el comercio y la economía internacional. De hecho, el dólar español era la moneda preferida de muchas colonias británicas de América del Norte, e incluso era moneda de curso legal en los Estados Unidos hasta mediados del siglo XIX.
Hoy en día, el signo del dólar es reconocido en todo el mundo como un símbolo del dólar estadounidense y se utiliza en las monedas de muchos otros países también.
 If you want to know more about the fascinating history of this coin and how it became one of the most important world currencies, including the first currency of the United States, you can visit this site by clicking on this link